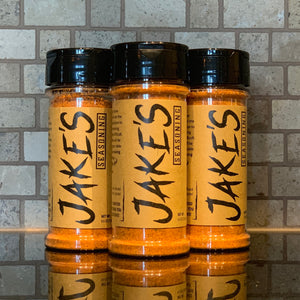 3 Bottles of Jake's savory spice blend.  The perfect gift for anyone who enjoys grilling and cooking.
Packed with a full-flavored blend of savory spices, herbs, and salt, Jake's Seasoning makes everything you create taste amazing. From meats to poultry, seafood and salads, Jake's all-purpose seasoning will be your grill, kitchen and dinner table partner for every occasion. Made from carefully selected ingredients from the finest herbs and spices, it can turn even the simplest meal into gourmet perfection.
Great for rubbing on meats

Excellent seasoning for steaks

Sprinkle on pizza, pasta, eggs, and even salads

A flavorful marinade for poultry, pork, and beef

Place it on your table as an added seasoning for dinner dishes

Bottled in an easy-to-hold dispenser
Jake's is the best tasting seasoning you'll ever try.  If you're not 100% satisfied, we'll refund your purchase.
Zero Calories, Zero Sugar, Gluten Free
Produced and Bottled in the U.S.A.
4.6 oz. Bottles